Type-C Industrial 22W Power Adapter for PoE w/Type-C and Type-A PD
Coolgear's new 22W Type-C power delivery adapter for PoE allows any iPad series of devices to connect to a power source over long distance. Using Type-C to deliver power to your devices over a Cat 5, Cat 5e, Cat 6, Cat 6a. STP or UTP cable (over Ethernet) can extend your connected distance and eliminate the need to stock power adapters.
Type-C Industrial 22W Power Adapter for PoE w/Type-C and Type-A PD
Type-C 22W PWR Adapter for POE Applications
[caption id="attachment_12860" align="alignright" width="289"]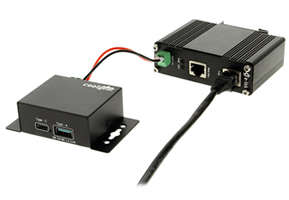 22W power adapter connected to a PoE splitter.[/caption]
New and old USB power over Ethernet USB device adapter, complied to USB PD specification rev. 2.0. Type-C 22W output power adapter provides on demand power to new Type C power delivery enabled devices such as; Apple/HP/Asus/Samsung and many more new type C PD gadgets like EEro's , Nest Camera etc., as well as legacy Type A devices that require fast charge or QC3.0 power.
The CGL-UCPA22W can power your iPad, iPad Pro, iPad Mini, iPad Air, and iPad Touch via simple power over Ethernet splitter (not included) and then provide power to the USB port. There is no need to plug in your iPad device to AC power adapter; power is sent over the Ethernet cable. Easily place any USB Type C device by just adding a PoE switch and pulling cat5 to your device locations.

Type-C Power Adapter Specifications
DC input 9-28V from any 802.3AF/AT Splitter (splitter not included)
Type A Port Output 5VDC up to 3A with smart chip
Type C Port Output 5/7/9/12/15/20 Volt output using power delivery technology up to 22Watt (enough power even for power hungry device like the iPad Pro or Nest Camera with Type C port
Works with 10/100/1000 POE splitters with DC Output Jack (most commercially available POE splitters have DC jacks)
Size: 88.48mm(L) x 50.88mm(W) x 26.32(H)
Weight: .25lbs
Input voltage: 9-28VDC
Output: 22watts max.
Input: 2-pin Secure DC Terminal Connector
Output: USB Connector Type A and type C
LED indicators
Powder Coated steel enclosure with mounting brackets
1 Year Manufacture Warranty
Package Contents
22W Power Adapter for PoE
Note: Splitter, Ethernet Cable, and Terminal Power Cable are not included with this item)
Sometimes you need a product in a flash and just want to verify an item is in stock. Other times you have a specific question regarding a product, shipping method, or your order. Use the form below and we will help. Please refrain from spam, we only log this information to our database for 24-hours and then it's gone.
Specifications
Manufacturer:
Coolgear
Warranty:
1 Year
Availability:

Limited Stock

Barcode:
045079160347
Ship Weight:
0.28
Condition:
New
Part Number:
CGL-UCPA22W
Color:
Black
Length/Size:
--
USB Spec:
--
Max Data Rate:
Input Voltage:
Upstream Port:
Downstream Port(s):
Screw Lock
Compatible:
No
Specifications
Manufacturer:
Coolgear
Barcode:
045079160347
Part Number:
CGL-UCPA22W
Warranty:
1 Year
Ship Weight:
0.28
Color:
Black
Availability:

Limited Stock

Availability:
Limited Stock
Condition:
New
USB Spec:
--
Max Data Rate:
Input Voltage:
Upstream Port:
Downstream Port(s):
Screw Lock
Compatible:
No